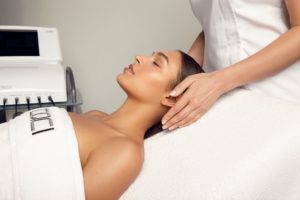 HAVE YOU HEARD OF A CACI FACIAL?
CACI facials are a non-invasive aesthetic treatment that have been known to deliver dramatic results without the need for surgical interventions. Dubbed the 'non-surgical facelift', celebrities such as Jennifer Lopez, Kim Kardashian and Linda Evangelista are huge fans
CACI stands for Computer Aided Cosmetology Instrument, It's a micro current machine that uses specific waveforms and ultra-low frequencies to transmit tiny electrical signals to boost muscle tone and skin tissue. It works in harmony with the body's own bio-electrical field to help improve skin tone, texture and face shape.
The facial itself is an LED light therapy where warm, coloured light penetrates deep into the skin. Micro current facial toning is then combined with the light therapy to regenerate tissue and help repair collagen. The CACI facial can be described as a MOT for your face thanks to lymphatic drainage, peeling, cleansing and toning and it also works to banish deep lines, giving you the appearance of younger looking skin.
As the treatment is non-surgical, it works in tune with your natural body movements causing minimal pain.
Prior to your CACI facial you will receive a consultation so that your therapist can help establish the results you want and the possible outcomes with your chosen treatment.
For optimum results, a course of 15 treatments is recommended followed by monthly maintenance sessions. If you wish to change your skin it is important to have the treatments weekly followed by monthly appointments to help maintain the results you desire.
All CACI facials are high-tech and made to suit all skin types we offer 6 different types of treatments with add ons.