Bespoke You – Offers
Bespoke You is an award-winning luxury beauty retreat based in Broadwater, Worthing & Hove.
Special Offers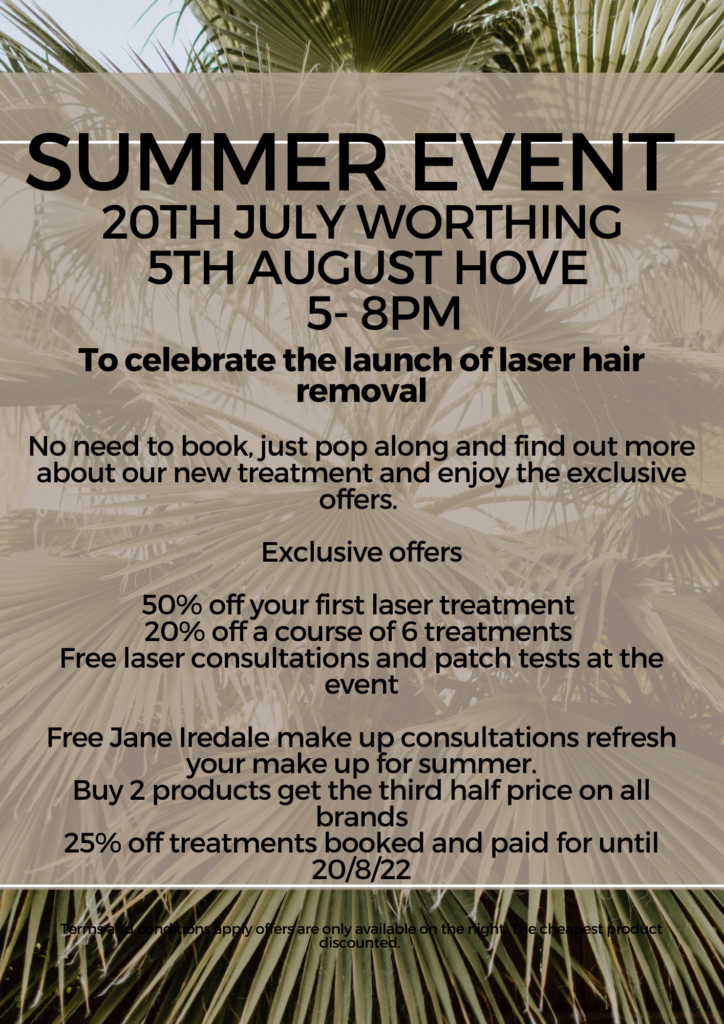 What is laser diode hair removal?
A diode laser is the latest breakthrough technology in laser hair removal systems. It uses a light beam with a narrow focus to target specific areas in the skin. Diode lasers offer the deepest penetration levels, giving the most effective results post treatment.
This laser technology selectively heats the hair follicle while leaving surrounding tissue undamaged. Initia treats unwanted hair by damaging the melanin in the hair follicles, causing disruption in hair growth and guaranteed results.
To celebrate the launch of laser hair removal, we have a special launch event. No need to book, just pop along and find out more about our new treatment and enjoy the exclusive offers.
30% OFF LVL WITH STEPHANIE
ONLY £41.30 (SAVING £15.70)
Stephanie is now offering our most popular treatment, LVL.
LVL is one of our favourite treatments lifting your lashes from the root, creating longer lifted lashes. This treatment also includes a tint to give a gorgeous mascara type effect.
A patch test is required if you have not had the treatment with us before
This offer is available until 21/8/22 book now.
Terms and conditions apply 
Expires 21/8/22 offer cannot be used with any other offer, discount only available with Stephanie. Offer cannot be placed on a gift voucher.

SPECIAL LASER LAUNCH OFFERS 
25% OFF YOUR FIRST TREATMENT & 20% OFF LASER COURSES
Book in for your first laser hair treatment and recieve 25% off. All treatment prices can be found on our website and a course of treatments includes 6 sessions.
With all laser treatment, you will require a patch test and consultation. This is to ensure you are suitable for treatment and we have the correct settings for your hair. 
How does laser work ? 
Laser is attracted to the melanin (colour) of the hair, the hair absorbs the light and heats up the hair follicle destroying the hair follicle. It damages the hair in such a way it inhibits regrowth, the hairs in the regrowth stage will fall out over a 1-3 week period.
How many sessions?
A course of treatment is required as there is normally only 10-15% off the hairs in the active regrowth stage at one point so we need to do multiple sessions to ensure every hair is treated at that point. You need 8-12 sessions every 4-6 weeks. You should expect to see a 75-90% hair reduction.
Before booking your patch test, there are a few things you need to follow. 
Pre treatment advise
Area should be free from product
You must not pluck / wax use hair removal or bleach for one month prior to hair removal treatments
Hair needs to be visible for your patch test to be carried out 
There should be no active or fake tan in the area to be treated (2 weeks no fake tan and 4 weeks minimum sun exposure)
Laser hair removal is now available to book online, but you must book your patch test first.